RESPONSIBLE IN THE MOUNTAINS
THE RIGHT PATH. ON SKI TOURS AND IN LIFE.
It takes knowledge, ability and the right equipment in order to stay in the mountains. And something more, too: It takes an awareness of the habitat. When you are out in the mountains, you have responsibilities – for yourself, for others, for nature. ORTOVOX's path is clear: in addition to our climate-neutral FREERIDE line, our SKI TOUR collection is now also 100% CLIMATE-NEUTRAL and made using fair, sustainable and intelligent materials.
COL BECCHEI LINE
DEVELOPED FOR DEMANDING SKI TOURS
Sweat-inducing ascents, steep descents: We developed the COL BECCHEI line especially for demanding ski tours in alpine terrain. The five technical styles – JACKET, VEST, PANTS, SHORTS and HYBRID JACKET – are lightweight, elastic and climate-regulating, making them the perfect companions on ski tours.
highlights
Scuff-resistant and highly elastic outer materials for maximum freedom of movement.
Intelligent climate management with C_CHANGE, a membrane that opens its polymer structure when the body heats up and closes it when the body cools.
Soft merino fibers on the inside for optimum climate regulation and a high level of comfort.
Durable, long-lasting materials – entirely PFC-free and climate-neutral.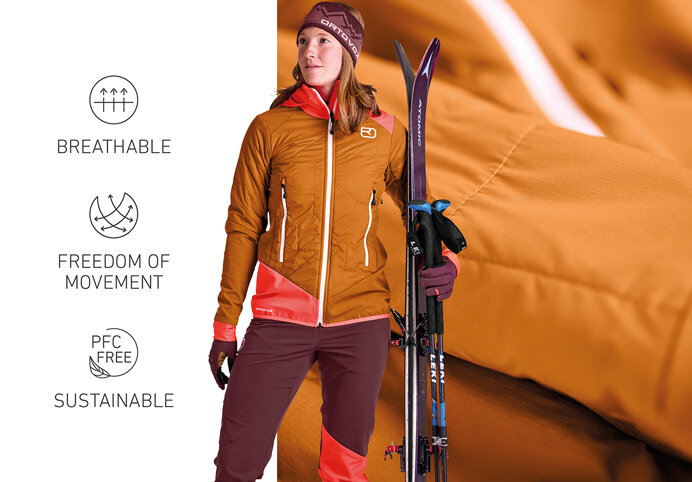 DISCOVER THE ENTIRE SKI TOURING COLLECTION
YOUR CLIMATE-NEUTRAL SKI TOUR COMPANION
Loading
Sorry, an error appears to have occurred